Our staff's commitment to you
Our staff is committed to providing support, compassion, information, and direction as needed to all members of our community, their families, and friends who are dealing with loss and grief.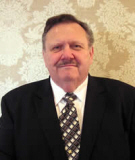 Robert Smole
Pre-Planning Coordinator
I am a sixty-six year old, military veteran, with some college, married 46 years to a wonderful wife, Amalie that I married while in the Army in Grafenwohr Germany. We had four lovely daughters one is deceased.

I have been licensed in the State of Wisconsin as an Insurance Intermediary since 1998. I secured my insurance license upon retiring after 37 years in the U. S. Postal Service. I have been an exclusive producer for the Slovenian National Benefit Society (SNPJ) in the Wisconsin area since September 2006 as well as a prearrangement specialist with the Bevsek-Verbick Funeral Home since 1998.

The big selling points that are available to me are the importance and value of pre-arranging. Making educated decisions to direct your wishes for your family to act on when the time comes. This process makes the difficult time of decision making a little easier on the family knowing that these choices are ones that were made for them by their loved one. This puts their mind at ease knowing that they are doing what is wanted.

I have been a member of the Slovene National Benefit Society (SNPJ) since birth. The SNPJ is National fraternal insurance organization that has been in existence since 1904. I was a National Officer, a local lodge officer and at the moment the President of the Milwaukee Federation of S.N.P.J. Lodges. I also am a scribe in the Prosveta (National Origin of the S.N.P.J.) writing the "Badger Jabber" articles. I am a member of the H. J. Schroeder Post 457 of the American Legion. I am currently the President of the West Allis West Lions Club. I also belong to the Milwaukee Accordion Club, a staff member of WJYI, 1340 AM Polka Parade Show and member of the Wisconsin Polka Hall of Fame.

Proud of my Slovenian heritage and to be part of Bevsek-Verbick staff providing the community with a dignified and affordable means of honoring a family or loved one at very difficult time. Honesty, integrity and compassion are but a few words to describe what you will experience if you choose to use the high quality of services offer at the Bevsek-Verbick Funeral Home.